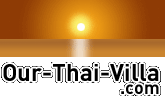 Things To Do In Koh Samui, Thailand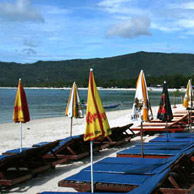 The main reason for visiting Samui is normally the excellent beaches, however there is more to do on this beautiful island than just lie on the beach.
Koh Samui is Thailand's third largest island, but even then it is still only 21 kilometres at its widest point, and 25 kilometres at its longest.
Below we take a look at some of the things available for you to do in Samui and give you an impartial review of what they are like.
Bowling
Yes, this beautiful desert island now has ten pin bowling, and bowling like you have never seen before! Living Bowl, is located in Chaweng above McDonalds, in what can only be described as a very 'hip' environment. The pins are under ultra violet lights, and Living Bowl has a very disco / futuristic feel to it. Living Bowl is open from 10am to 2am and its prices are reasonable with an Heineken, a game only 100 Baht per person. As it only has 12 lanes, the staff can be infuriatingly fast at clearing your bowls once you have finished, hardly giving you the chance check your scores and finish your drinks. Having said that, it is a welcome addition to Koh Samui and well worth a visit, especially when it is not too busy.
Shooting Gallery
Train your shooting skills at the Samui Shooting Gallery near Chaweng, open from 9am to 6pm there is a wide range of guns with live ammunition available to practice your skills. Prices start from around 350 Baht for 10 rounds and increase from there.
Samui Go Kart
Located close to Chaweng this simple Go Kart track has two types of karts available, a slow kart and a fast kart. If you want additional time discounts are not given, but extra time is offered as an incentive. For example, pay for 20 minutes at full rate and get 24 minutes in return.
Big Buddha
Located close to Bophut Beach, this can be seen from the airport, and from roads around Bophut as you drive around the Island, however it is worth a quick visit, as there are stunning views available from the upper level around the base of the large Buddha. You can also make donations and sign your own private message on bricks which will possibly be used to renovate areas of the Wat.
Living in Thailand
Is a small, yet relatively interesting look at how rice is made, from the Buffalo ploughing the fields, to separating the rice etc. It has to be said that it is a basic set up and could be improved, but if you are in the area with nothing else to do then it might be worth spending a few minutes learning more about how our rice bowl is actually made.
Coconut Plantations
There are a few coconut plantations around the islands that you can visit and they will show you how monkeys cleverly, and bravely, collect coconuts. Again, this is only really worth a visit if you are in the area or have time to spare.
Waterfalls
There are quite a few waterfalls in Samui, perhaps the most famous being Namuang 1 and 2. Namuang 1 is the easiest of the two to reach and consists of one fall, this is definitely the one to visit if you are not as agile as you used to be. Namuang Waterfall 2 (please note that entrances to the two falls are quite close to one another) is a lot more challenging but is also a lot more beautiful than number 1 having different tiers to the fall. When visiting the falls try to wear good walking shoes that have a good grip, as the climb especially on 2 can be tough.
Spas
There is now a whole selection of spas on Samui - some legit and others less so - that offer you a wide selection of treatments and deals. Pretty much every major hotel in Koh Samui has some kind of spa and massage facilities available but it can be worthwhile to look outside the hotel.
Tamarind Retreat & Spa
Is a well established favourite that is built into the hills near Lamai. It is in such a relaxing environment that you don't even need the massage to start relaxing. They have a unique steam room that is built against an enormous granite boulder and a cool pool that also runs alongside in the open. With a wide range of massages and treatments available, you are almost guaranteed to leave here relaxed and completely refreshed, in fact so many people didn't want to leave that they also now offer villas adjacent to the spa! It has to be said that while this may be one of the best spas in Samui the open set up of the changing rooms, showers etc, means that if you are very shy, you may feel uncomfortable.
Shopping
There is shopping in Samui, even a Tesco's, however most things will be cheaper in Bangkok, so it may be worth doing your shopping there. Chaweng is the best area for shopping with Nathon a close second.
Diving
Diving is a main attraction to Samui with many of the best dive spots in Thailand just a boat ride away.
Day Trips
A whole range of day trips are available from Samui to outlying island such as Koh Tao, Koh Wua Talap, Koh Mae Koh, Koh Prayat, Kohh Sam Sao, Koh Nai Put and Koh Wua Te, the National Marine Park and other areas where snorkelling and diving is available.
Full Moon Party
Is not on Samui, but many make their way to the adjacent island from Samui for this world famous party. Be very careful and remember that in Thailand drugs are absolutely against the law. It does not matter what amount, whether they are yours or not. Thailand has and uses the death penalty for many drug related crimes.
Pool
Well it is something to do! There are many pool tables around Samui in the bars. In Chaweng, the best are to be found at the Green Mango Bar / Club and cost around 150 Baht an hour. Other pubs such as Murphy's and many others also have tables available.
Cabaret
There is now one small cabaret show in Lamai, and two in Chaweng, Christy's Cabaret and Teng Corner's Cabaret.
Please read our Bars in Koh Samui section for more info
Per night rates from: $98USD
(min 7 nights)